As a business owner, you must know that marketing is the backbone of any business that intends to succeed. Having proper marketing strategies is very necessary for your business to thrive. Having the right product or service isn't just enough; your sales strategy must be feasible. This is why it is vital to create an effective sale strategy and understand why your business needs a sales funnel for it to be successful.
First, What Is A Sales Funnel?
A sales funnel is a structured process that takes visitors through your site in a step-by-step sales process with the end goal of converting these visitors to buying customers of your products; physical or digital.
The whole purpose of a sales funnels is to nurture leads into prospects and then qualify these prospects into paying and return customers.
Building a sales funnels for your online business ensures you get the most out of leads you generate for your business. It furthermore gives you an insight into how customers interact with your products.
A recent statistic shows that about 68% of businesses have never attempted using an online sales funnel, and this is not good. Not having a sales funnel is making a lot of business today lose in on sales.
Sales Funnel Stages – Understanding the Process
In a sales funnel, there are a series of stages your prospect has to undergo, from them familiarising with your business to the moment they decide to make a purchase.
Stages may differ due to several factors like your business niche type and products, but in general, your sales funnel should be built around these four stages;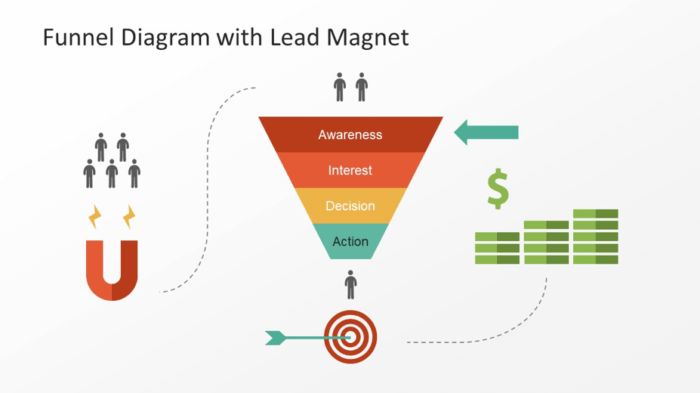 First Stage: Awareness
From the diagram above, you can see that this stage is the biggest and have the bulk of people in it. This stage comprises leads that get to your site from curiosity or are out of the need for the products you offer.
The leads at this stage familiarise with your site through channels like organic searches, paid ads, email marketing, and referrals.
At this stage, any of the leads could become potential buyers, so ensure that what your selling is too compelling to ignore.
Second Stage: Interest
This stage has people who have spent minutes on your landing, interacting, and looking to take action.
They most likely are interested in your product already. At this point, they are probably already signing up for your mail list.
It is at this you stage you offer them something irresistible, something of value to them engage them with.
Third Stage: Decision
At this stage, your prospects will decide on pulling their credit card to purchase or vice visa. Several factors, like your offer, the packages, and pricing, affect their buying decisions. They are very conscious of details and most likely compare your offer to competitors. Retarget marketing, webinars, and landing pages are best used to engage prospects.
Fourth Stage: Action
At this stage, prospects are ready to pull out their credit cards to purchase from you. They have now been converted from a lead in stage one to a paying customer.
If these customers are happy with what they, they could become lifetime customers.
There could be more stages in a sales funnel as the nature of a business could differ.
Why Your Business Needs A Sales Funnel
A sale funnel allows you to define your sales process and understand the customers' psychology behind it. Understanding how they interact with you, the reasons, the channel is key to having a successful business.
The sales funnel helps you filter your audience into different based on the interactions and what they showed interest in.
Some benefits of a sales funnel include;
Sales Funnels Helps You Focus On What's Working
A sales funnel saves you the hassle of wasting useful resources. You get to have an idea of the type of leads to target.
You get to put in effort in what is working rather than what's not. Every form of engagement with your prospect will give you an insight into the more committed ones and the ones that are less inclined to take any action.
Creating a sales funnel allows you to know the exact amount of leads you generated to your funnel, from the first stage up until the final stage. This way, you can calculate the number of leads you need in your funnel to reach your goal and then invest your money accurately to get even better results.
Increase Conversion Rates
A Sales funnel ensures you have a more targeted audience. The audience is nurtured from leads to prospects and then finally to more paying customers.
Have A More Accurate Sales Forecast
With sales funnels, you get a more precise forecast for your future sales volume. Marketing works with numbers, and sales funnels provide you the necessary data that you can use to predict how much you can sell for a period.
Every business goal is to make money and expand the business. Now that you know the means to increase your revenue with sales funnels, you can continuously replicate to generate more revenue for your business.
Conclusion
Incorporating sales funnels into your marketing strategy is of utmost importance for every business that wants to increase your revenue exponentially. A sales funnel allows you to your customer's psychology and buying behavior. This way, you get to build a relationship to the point where they become paying and repeat customers.
Are you looking to create a sales funnel for your business? Then I recommend you check out ClickFunnels. ClickFunnels is a popular and powerful tool that allows you to create sales funnels, opt-in forms, landing, and even host a webinar. Signup here to get a 14-day free trial!